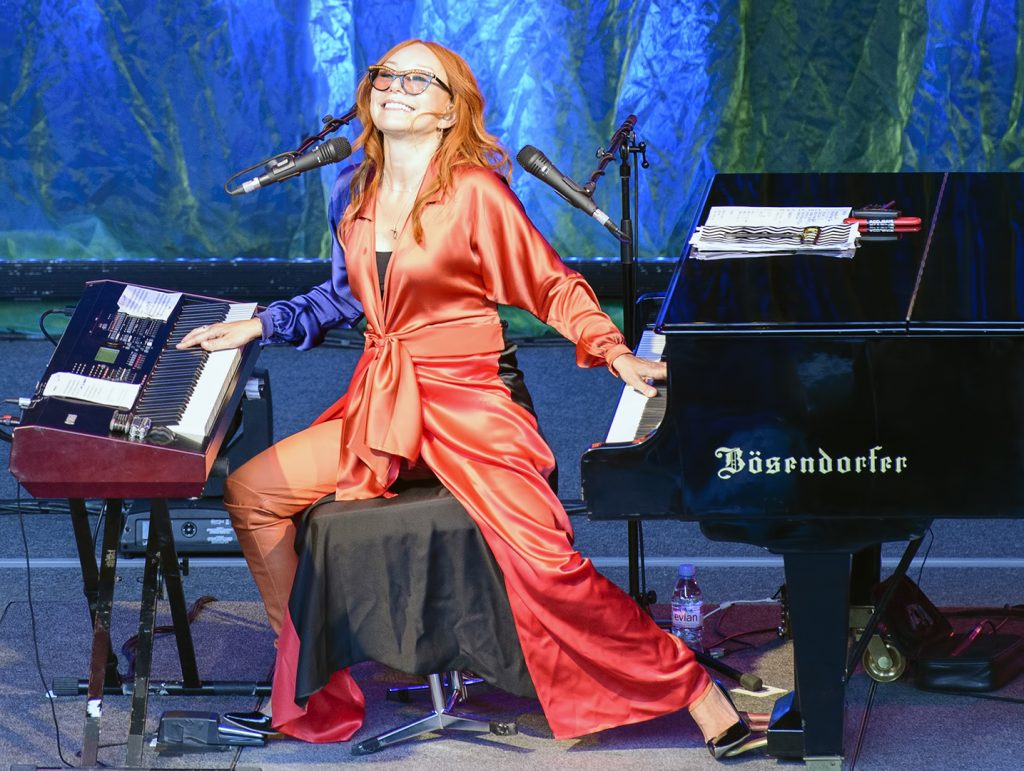 Tori Amos was 5 years old when she enrolled at Johns Hopkins University's Peabody Institute, and 11 when she was thrown out. Deemed a prodigy, being the youngest student to ever enroll, she couldn't sightread the notes up to the school's standards and preferred to play rock music by ear instead. Tori was raised in a strict Methodist household. She was a quintessential "good girl" whose childhood and adolescent years seem to perfectly capture a suburban American ideal. She began her career embodying this ideal. Her first single, an uncharacteristically sunshine-sweet tune, was dedicated to her beloved city of Baltimore, Maryland.
During her twenties, she seemed to have washed away her peach party dress roots and became an 80s synth-pop rock star in a band known as Y Kant Tori Read? Their self-titled album was her first full body of work, and it flopped. The eponymous album was released in 1988 to dismal sales, with the band splitting shortly after.
For the next four years, Tori wrote in self-reflective silence. Atlantic Records had signed a contract with her, however, it was fulfilled with two unsuccessful album demos. During what seemed to be a rock bottom moment for her musical career, Tori wrote "Me and a Gun," an intimate and chilling acapella song about her rape at age 21. Lyrically, its meaning was unquestionable, and as a result, its resonance unquestionably powerful too. When it got released on her 1991 EP, her name started to buzz all over the music scene as critics took notice. Atlantic did too.
In January 1992, Tori Amos released her debut album Little Earthquakes. When the album was first released in the UK, it reached number 14 and remained on the Top 75 chart (UK) for 23 weeks. A month later, it was released in the USA to breakthrough critical and commercial success. Debuting right as Nirvana's Nevermind was topping the charts, Little Earthquakes presented itself as a candidly raw, yet musically sophisticated. The album was a well-composed body of technical perfection. Unlike the more messy and bestial rock of the early 1990s, Tori delivered her unconventional voice and message with an intensity and honesty that matched that of the grunge scene, but with an homage to her classical music roots.
Tori's career has spanned over nearly three decades, with 15 solo studio albums, multiple live releases, three compilation albums, and numerous singles and EPs. She's been dedicated to honoring her personal taste by refusing to give up her acoustic piano roots in exchange for the electric guitars her record label thought would better suit the 90's grunge scene. Amos is now also a wife and mother with two self-published memoirs that focus on her interests and muses including religion, mythology, and politics.
Some called her a Kate Bush wannabe, a silly, overly self-conscious songwriter, and at times, flat out vulgar. She felt too real for the general media, with her candid interviews, cutting song lyrics such as "Look I'm standing naked before you, Don't you want more than my sex," and an intimate relationship with her fans. Her audience was comprised mostly of young women and individuals of the LGBTQ+ community that yearned to watch her unique soul come alive on stage; a soul that would resonate with many as she'd recount her religious upbringing, sexual awakening, struggle to establish her identity, and sexual assault. Tori's life story and overcoming it became her art, and it resonated most with those like her: free spirits feeling stifled and lost underneath years of trauma and constraint.
I too fall within the droves of Tori fans consisting of coming-of-age women trying to find themselves in a world that seems to exist in direct opposition to that desire. When I look at Tori, I don't see a singer trying to exist for the media, the masses, or even her adoring fans. I see an artist who, above all, creates for her own soul and her own soul alone, and finds herself through her art.
Written by: Elizabeth Razzouk