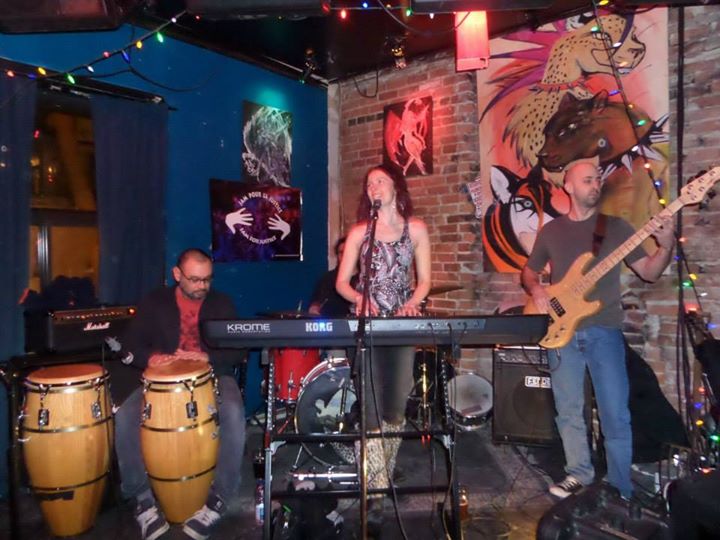 By Peter Liao
A self-described Nordic jazz pop burlesque fusion formation, Jazzotopes was founded in 2013 by Mari Sild (piano, vocals), Francois Payen (upright and electric bass), and Trevor Zaa (drums). Although relatively new, Jazzotopes have rapidly created their own following in the jazz-pop scene, where their music is played not only in live venues and several radio stations across Montreal, but in the cities of Halifax, Portland (Maine), and even Barcelona. On Feb. 5th, Counterpoint Magazine had the chance to interview the Jazzotopes, where they played at the Winter Jam for Sun Youth held by Jam for Justice McGill in order to help provide recreational programs for disadvantaged youth.
So is there a particular backstory to your name?
Francois: I was actually the one that came up with the name. Since we're all a bunch of nerds, we thought that combining a chemistry term "isotopes" with our collective musical passion would make for a great name. Plus, we searched on Google and found that the word Jazzotopes didn't yield any results, so the uniqueness solidified the name for us.
How did your band members meet?
Mari: Trevor, Francois, and I started the band, and it was through a gig that we met Oscar Calderon, the percussionist. He was interested in playing with us, so we decided to try out jamming together and it just worked! In general, our band composition is very much flexible and in flux, depending of the gig we play with different musician; for example, saxophonist Genevieve Lapointe, bassist Mathieu Royer, guitarists, electric violinist Yasushi Matsuki, and many other interesting artists!
Does your band have a main songwriter? What would you say is a central theme in the songs you play?
Trevor and Francois point at Mari.
Mari: I am the songwriter but we're all part of the music-making process, obviously everybody brings their own personal touch with their own parts and there is a lot of space for improvisation. As for themes affecting us, I am thinking a lot about environment protection and harmony with nature. The visible landscapes as well as landscapes of the soul, the Soulscapes. And we're just happy to be here and to play the music that we love to our fans.
Do each of you have any particular musical inspirations or styles that you're drawn to?
Francois: Oh, I dabble in every style of music. I've been involved in punk, disco, alternative rock. For me it's about picking the best stuff out of all the music that I've encountered.
Trevor: Yeah, I just like good music. I'm especially passionate about jazz, which is why I'm here to play as much of the music I love as possible.
Mari: I grew up with a classical musical education in Estonia, so I started my musical career with that. But just like the others, it isn't really about the genre for me – I'm involved in other musical projects that play quite different styles. Like Trevor, it's really jazz that I'm especially drawn to, though.
Are there any people that you'd like to acknowledge for your success so far?
Mari: I'd like to thank Don Murnaghan from Studio Frisson; he was our first sound engineer for our first EP, and he's just done such an amazing job producing it.
Francois: I'd just like to thank the audience, our fans and everyone that came out to see us today.
Trevor: I definitely have to thank my bandmates, who have been great friends and with whom I definitely find a musical connection with.
Mari: Yes, your bandmates are the best there are! (laughs)
Is there any platform you'd like us to follow your music on?
Mari: Yes, we have a Facebook page at https://www.facebook.com/Jazzotopes, you can like our page! We also have a website at www.jazzotopes.com, where you can find our debut EP as well as any photos, videos, future showtimes, and can even get a free song download when you join the mailing list.
We also have a YouTube channel under Mari Sild and Jazzotopes, just search for us and you'll find us.