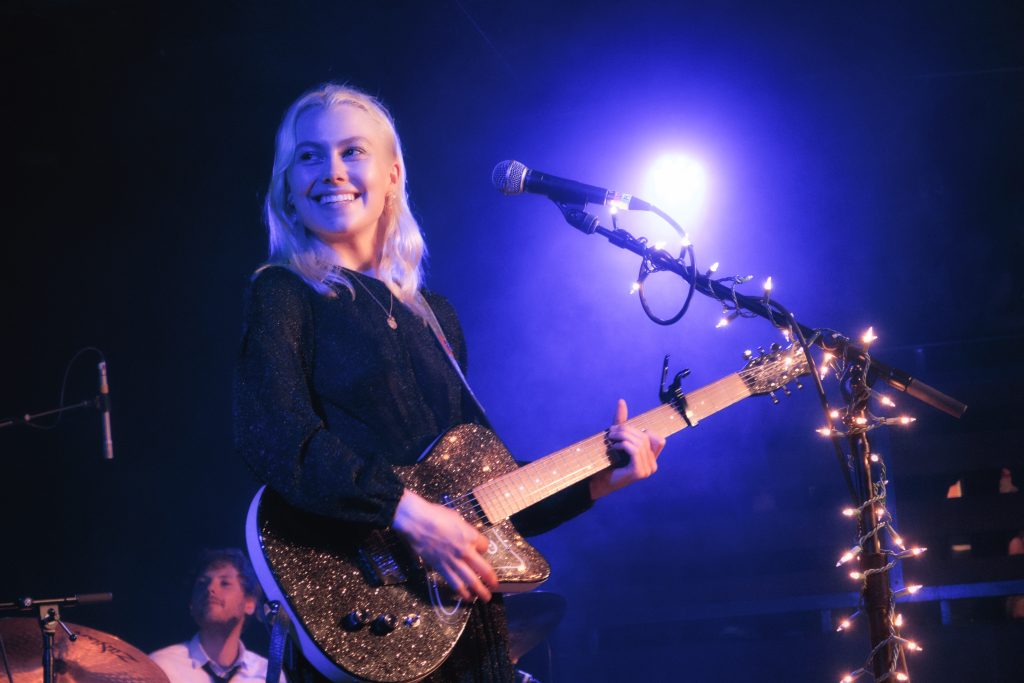 By: Alice Yates
Six years ago, now 26-year-old Phoebe Bridgers came out of the woodwork into the music scene. She has since continued to make musical waves with her dreamy musical style and expert lyricism. Bridgers has manufactured a unique and memorable aesthetic image, with her bleached-blonde locks and performance attire usually consisting solely of a pseudo-onesie skeleton outfit. Hailing from California, Bridgers released her debut album Stranger in the Alps in 2018, with Pitchfork.com describing the work as "exquisitely raw and revealing." The lead single "Motion Sickness," an eloquently penned diss-track at Bridger's ex-producer and boyfriend, was particularly impactful within the context of the #MeToo movement in 2017, and firmly cemented Bridgers' voice alongside the plethora of female voices demanding change and accountability. Bridgers focuses on emotional vulnerability within her lyricism. Stranger in the Alps expertly presents themes of loneliness, desperation, and vulnerability without ever straying into morbidity or hopelessness. 
Her second album, Punisher, followed suit with similar themes. Its 2020 release date allowed Bridgers to make particularly tongue-in-cheek references to the global frustration within the context of the ongoing pandemic. In a 2020 NPR Tiny Desk performance, Bridgers comically implored the audience to "enjoy their apocalypse" before performing the outro to Punisher. The track, entitled "I Know the End," couples Bridgers' classic dreamy style with topical lyrics about finding connection in a foreign context. Punisher has recently garnered Bridgers four Grammy nominations for best alternative album, best new artist, and best rock song and rock performance for her single "Kyoto." Bridgers currently has an impressive 4.8 million Spotify listeners, one of those being former President Barack Obama, who cited her song "Kyoto" in his list of Favorite Music of 2020.
Alongside her widely successful solo records, Bridgers is also acclaimed for her roles in the indie band Boygenius and the rock-duo Better Oblivion Community Center. Boygenius is an all-female band consisting of Bridgers and equally adored indie artists Lucy Dacus and Julien Baker. Their 2018 self-titled EP combines the pensive and complex artistic styles of the three women, and their tour of this EP garnered rave reviews. The sold-out Danforth Music Hall performance in Toronto was cited by Carla Gillis of Now Toronto as "alive in a powerful way," praising the women for their ability to "captivate and complement" both the audience and each other. Her second collaborative project, Better Oblivion Community Center, finds Phoebe working with indie-rocker Conor Oberst for a critically acclaimed 10-song album and equally successful concert tour. 
At just 26, Phoebe Bridgers' large and impressive body of work has struck a chord with indie-rock lovers. Her ability to verbalize vulnerable emotions and couple this vulnerability with complex and interesting musical choices has firmly cemented Bridgers as a wildly talented and unabashedly authentic artist of a generation.