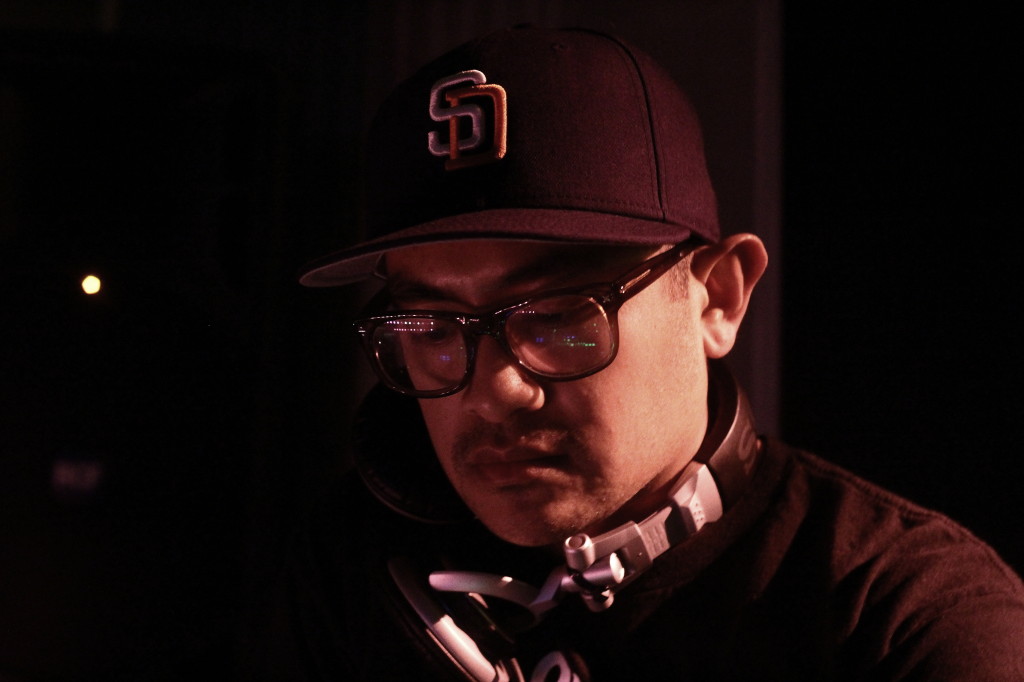 Photo by Coup d'Oreille

By Peter Liao
Hailing from San Diego, CA, Jazz Hop producer/DJ Freddie Joachim released his first full-length album, In With Time, under Subcontact, a Japanese label. After collaborating with Question and DJ Tonk to release Study Guide the year after, Freddie went on co-found the Mellow Orange music label with Yusai. Since then, he has enjoyed critical acclaim and increasing popularity producing for artists such as Aloe Blacc, Blu, LMNO, and Joey Bada$$ while still enjoying the creative freedom that releasing music under his own label provides.

On Mar. 17th, Freddie held his "Flava In Ya Ear" Beat Workshop at McGill University as part of Hip Hop Week MTL, where he discussed, among other things, the struggle of being recognized in an oversaturated instrumentals scene, the importance of musical self-education when producing, and how he creates his unique sound through subtractive EQ and utilizing chops in the place of loops. We had the privilege to sit down with Freddie afterwards and talk about his personal experiences and reflections on his own musical development.

Counterpoint: Hi Freddie, thanks for taking the time to answer our questions! So to start off, what drew you into DJ-ing in the first place, and what spurred the move to producing?
FJ: Well you actually see DJs in music videos on TV just kind of scratching, and I think it was the equipment that kind of appealed to me. And then um… Actually I had no friends who were DJs, so it was just by my own. So then producing was just a natural thing where I… Well, like when I said earlier, I started putting out mixtapes, recording my own audio, learning how to mix styles – that kind of stuff got me into producing.

Counterpoint: Do you have a favorite memory or moment that you've had early on in your musical career?
FJ: I would have to say an early memory is just like I said – having that experience in high school where I'd just wake up an hour early just to scratch, catching the bus to school, and then scratch all night until it was dinnertime or something. I definitely miss that part of making music.

Counterpoint: So you mentioned during the workshop that – as with Subcontact – it's really difficult to get your music out there without having to conform on some level to someone else's ideal of what your music should sound like. How do you manage to deal with that kind of pressure while still maintaining your artistic integrity and expressing your personality in your work?
FJ: Well I think a lot of people who do approach me for music, where they're trying to record, you know when I'm recording for other artists, they do have their own kind of vision of how they want it to sound. Sometimes I'm kind of – I don't want to say I'm like a puppet with strings and all – but I'm kind of catering myself more towards artists and what they're trying to express in their music that they're releasing. But as far as the stuff that I want to release under my name I think it's good that I do have my own label where I can have the creative freedom to just express myself with.

Counterpoint: Following your music from Tiger to Leaves, there's a definite shift in your musical style as time passes. Can you describe how your music has changed, or even evolved, throughout the years?
FJ: I think in my early years of putting stuff together, I was directly influenced by the producers or artists I was listening to at the time. Like when Tiger was made, and like a few other early things I was heavily into Madlib and I take a lot of influence from the influence from the stuff I was listening to at that time. Nowadays, I'm more listening to a lot of soul artists, and it definitely reflects in my music.

Counterpoint: Speaking of stuff you're listening to, do you have a song or album of that you're really digging right now?
FJ: Right now, what I'm really listening to is Tuxedo by Mayer Hawthorne and Jake One. Yeah I think that album is just incredible!

Counterpoint: Between being a DJ and producing music, what would you say would be your biggest obstacle that you've encountered – something like creative block or otherwise?
FJ: Not necessarily creative block, you know I can always bounce back out of that. I think it's maybe creating music, or creating stuff that isn't up to par to something you envisioned. You know, when it just comes out – in my opinion – crap [laughs]. You know I'll have like a bunch of undone instrumentals or beats that are never even finished or I've even thought about going back and finishing them. So I think once that accumulates over time you have to kind of step back and maybe look at what changes you need to make as far as, you know, making music. The thing about me is that I'm super-critical against myself. I just think everything just doesn't sound good all the time. You know, it's good and bad – I think it keeps me a little bit grounded so I'm not all about myself but it also doesn't help where I'm constantly putting myself down [laughs].

Counterpoint: So as part of the theme of the ongoing Hip Hop Week Montreal, what does hip-hop means to you in terms of your own music?
FJ: Well you know, I grew up around the late 80's, early 90's so a lot of the hip hop that was going on at the time was definitely more about expressing the elements of hip hop. The 4 elements of being graffiti[ing], b-boying, rapping, and DJing. Those are kind of the ideals that I still try to encompass in my music a little bit. You know, I still try to have those ideals of hip hop in the sense of those 4 elements while still keeping up-to-date with what's going on right now. It's kind of like mixing the old and the new – that's what I want my hip hop to be.

Counterpoint: Any last words, shoutouts, or plugins that you'd like to do?
FJ: Okay, thanks for the questions! I guess I gotta plug my websites http://freddiejoachim.com/ and http://melloworange.com/
To learn more about Hip Hop Week MTL, click here!